Dolphins
Posted by:
Aamir
Aug 10th, 2006 •
Category:
Eye Candy
•
Tags:
underwater
,
wildlife
•
Dolphins are some of the most highly intelligent creatures on earth. These warm-blooded mammals belong to a group of mammals called Cetaceans which also encompass all whales. They have lungs and breath through a single blowhole on the top of their head and can hold their breath for about 10 minutes under water.

Dolphins come in many colors and there are a total of 67 species known. Their senses are very highly developed, with acute hearing superior to that of humans, acute eyesight and sense of touch but have a limited sense of smell. Little is known about a dolphin's sense of taste, although they do have taste buds and show strong preferences for certain types of food fishes.

Dolphins are social animals, living in "pods" of up to a dozen. In places with a high abundance of food, pods can join temporarily, forming an aggregation called a superpod; such groupings may exceed 1000 dolphins. They demonstrate extraordinary team work when they go hunting. The pods surround schools of fish preventing them from escaping. The dolphins then take turns jumping into the trapped schools grabbing a mouthful and thus starts the feeding frenzy. Sharks often get excited when dolphins are around and join the food party too. Now who would pass a free meal?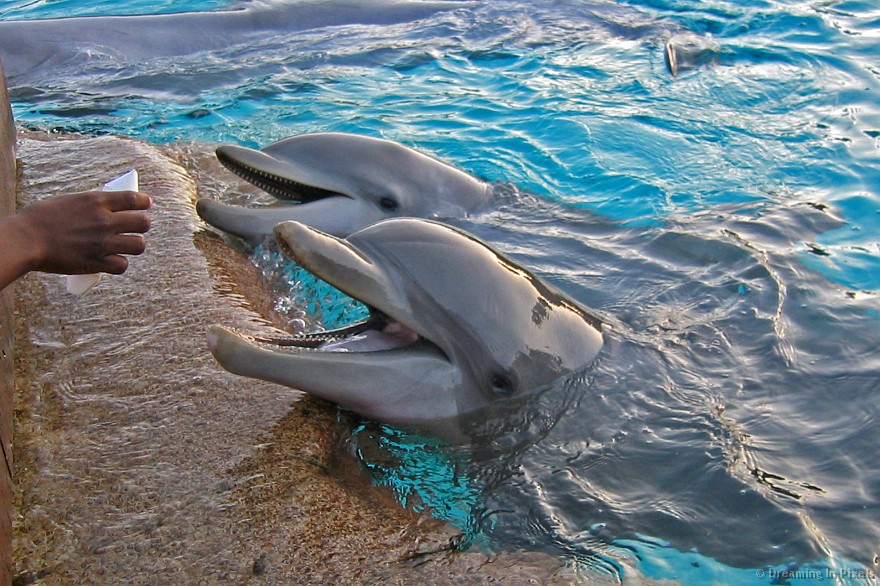 The individuals communicate by producing a variety of clicks and sounds that resemble moans, trills, grunts, squeaks, and creaking doors. They also produce whistles. The sounds vary in volume, wavelength, frequency, and pattern. They also use ultrasonic sounds for echolocation. The term echolocation refers to an ability that dolphins possess that enables them to "see" with their ears by listening for echoes. Membership in schools is not rigid; interchange is common. However, the animals can establish strong bonds between each other. This leads to them staying with injured or ill dolphins for support.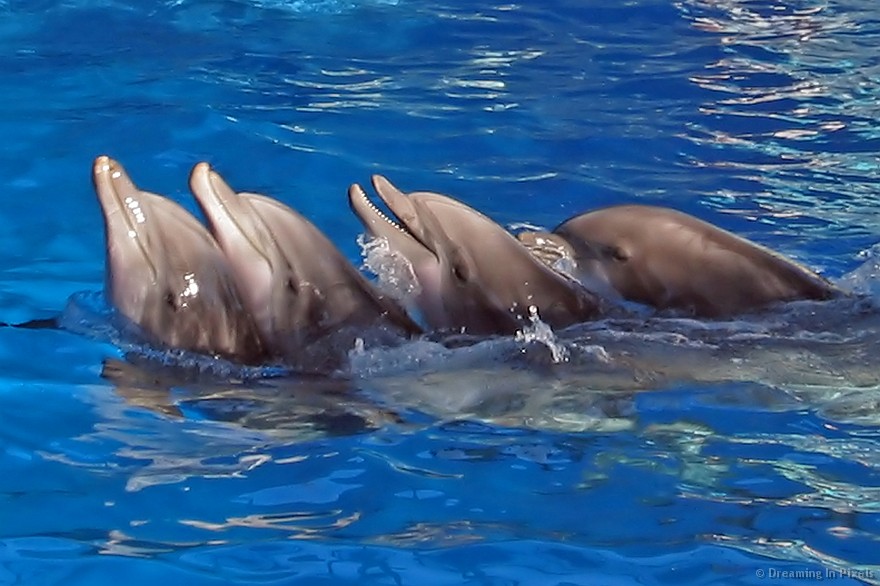 More than just being a fascinating sea creature and fellow mammals, dolphins and humans have a history of positive interaction with one another. Dolphins routinely interact with swimmers and divers in a very playful fashion, swimming closely, nosing around and even offering a lift when a person gently grabs onto the dorsal fin.

Because of their high capacity for learning, dolphins have been employed by humans for any number of purposes. Dolphins trained to perform in front of an audience have become a favorite attraction all over the world. Their intelligence combined with their ability to travel at speeds of ~20 MPH and dive deep, they are used by the US Navy Marines to perform tasks such as ship and harbour protection, mine detection and clearance, and equipment recovery. They are also used as sentries to protect harbor installations against unauthorized human swimmers.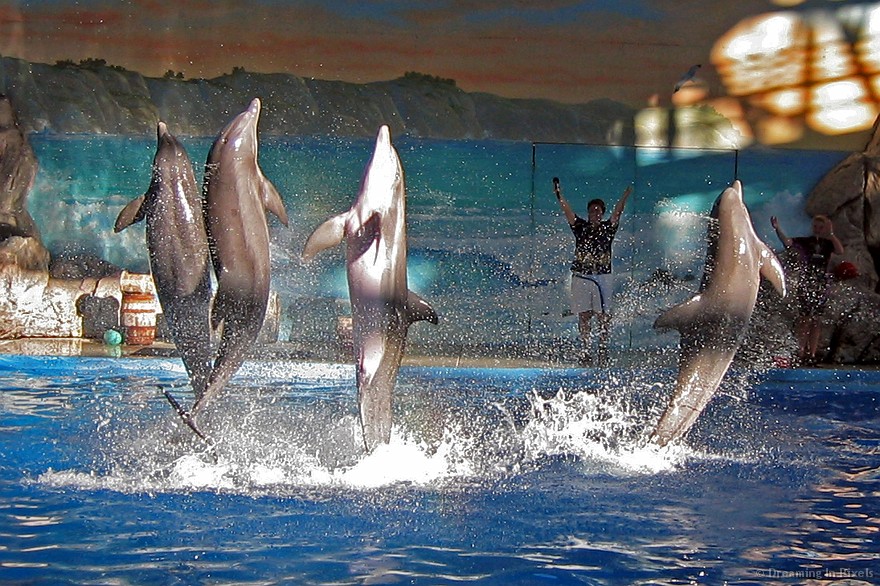 A quick fact before i end this post. Did you know that Dolphins are the only mammals besides human beings that mate for pleasure??
Posted by:
Aamir
Aug 10th, 2006 •
Category:
Eye Candy
•
Tags:
underwater
,
wildlife
Back to top