Red White and Boom!
Posted by:
Aamir
Jul 6th, 2006 •
Category:
Eye Candy
•
Tags:
events
•
Happy Independence Day (or like the govt is trying to brainwash you…Happy 4th of July). Hope you had a well spent long weekend relaxing with your family. This weekend was my first serious attempt at taking pictures of fireworks (the previous attempts failed as my old camera did not help me a bit).
Bay area lights up the evening of July 4th with a string of fireworks starting all the way up in San Francisco to all the way down in San Jose. Some of the most pretty fireworks are displayed in San Francisco at Pier 39 (though the unpredictable fog most of the times can be a real damper) followed by Redwood City, Great America Parkway, San Jose. Hundreds of thousands of dollars are spent on each location organizing the parade and the fireworks.
This year was a little different. Great America parkway themepark had its fireworks on the nights of Jul 1, 2 and 3rd. I came to know about this on the last day, took my camera hurried to the spot to take pictures. Since it was my first serious attempt, i made a lot of mistakes and ended up getting overexposed pictures. Thankfully, the rest of the bay area had the fireworks on the 4th of July and i got another chance to learn from my mistakes and correct them. For the second day, i chose Milpitas as my location and was genuinely surprised at how nice the fireworks were. Here are some pictures i took of the fireworks.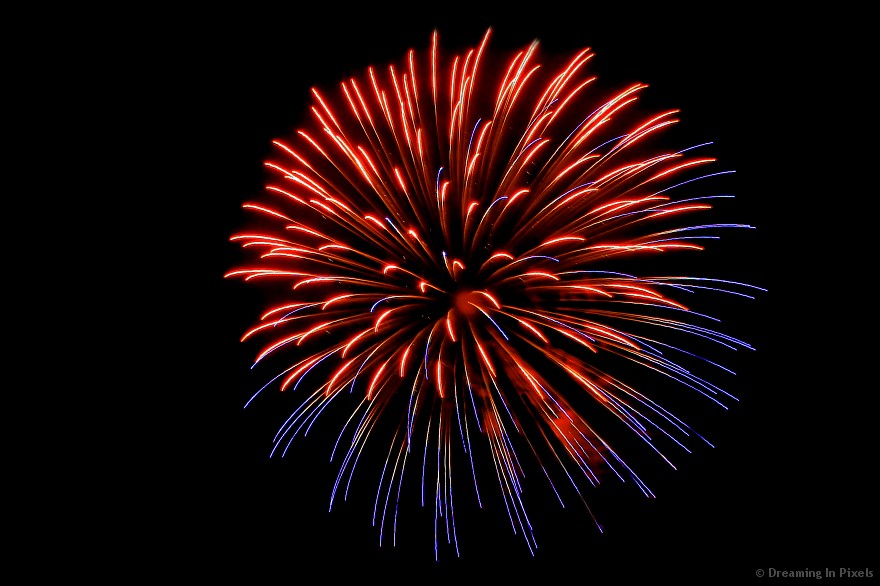 [update]
To those interested…. Here are some tips on how to shoot fireworks.
Digital Photography School
Photographing Fireworks in California
New York Institute of Photography
Here are some tips based on my experience…
Tripod is a must.
Cable release or remote is not a must. I did not use one
Check weather before you leave. If it is foggy or cloudy, there is nothing much you can do. Dress appropriately, it gets really chilly some places.
Park your vehicle a couple of blocks away and be prepared to walk a bit. Expect roadblocks and heavy traffic near the event venue.
Here is how i set my camera (EOS 30D + 28-135mm lens) to shoot the fireworks
ISO: 100
Focus: Manual Focus (manually focussed on a building nearby and adjusted focus again with the first burst of fireworks)
Camera Mode: M (Manual)
Aperture: 10-16 (10 gives softer edges. 16 gives really sharp edges.)
Shutter Speed: Bulb (I had the shutter open from 3 to 6 seconds max. Experiment with the first few bursts to get an idea)
Noise Reduction: Off (Turning it ON makes the camera take approx 5-8 secs to process the image and write to the card. This means you miss many bursts)
Focal length: 28-50mm (I cropped the pics later)
White balance: Auto
Metering mode: Doesnt matter. I chose pattern
Image Quality: Large + Superfine (No RAW)
Storage medium: Ultra II flash card. Not sure if using a micro drive would have given me faster write times
Posted by:
Aamir
Jul 6th, 2006 •
Category:
Eye Candy
•
Tags:
events
Back to top